Webshop Cart
Your Cart is currently empty.
---
Info: Your browser does not accept cookies. To put products into your cart and purchase them you need to enable cookies.

Ekologia - Ecology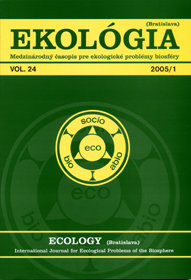 The Journal Ecology (Bratislava) places the main emphasis on papers dealing with complex characteristics of ecosystems. Treated are not only general, theoretical and methodological but also particular practical problems of landscape preservation and planning.
Published 4 times a year in English language.
Abstracted and indexed in:
SCOPUS (Amsterdam, the Netherlands)

Zoological Record (York, United Kingdom)
Cambridge Scientific Abstracts (Bethesda, USA)
ProQuest (Michigan, USA)
NISCSA Databases (Grahamstown, South Africa)
CrossRef (Digital Object Identifiers: DOI)
Publisher

Subscription for Slovakia


Subscription outside Slovakia

AEPress, s.r.o.
Bajzova 7
821 08 Bratislava
Slovak Republic
Fax: +421-2-43637986
E-mail: koresp@aepress.sk

Fax: +421-2-43637986

E-mail: koresp@aepress.sk

Fax: +421-2-63 839 485